As promised Realme detailed its new 240W charging standard today. It comes with a customized 12A charging cable for the 20V/12A throughput, delivered through three charging pumps. The USB-C adapter is has what the company calls double GaN components and is extremely small – 2.34W/cu.cm, which is about the same size as the 160W SuperDart adapter.
The 240W charging architecture transforms the 20V/12A power to 10V/24A through three independent charging pumps, meaning the new phone will have three battery cells. The 12A cable will consist of four standard 21 AWG cables, which is a diameter of nearly 3mm just for the wire inside the plastic insulation.
The whole process is monitored by 13 real-time sensors will limit the power if there is any danger whatsoever. Realme's charging protection also includes fireproof materials and certificates for the peace of mind of the end user.
More excitingly the company confirmed the 240W charging is more than an engineering exercise – it will actually be present on the company's next flagship. The phone will come with the "industry's largest cooling area", featuring multiple graphene sheets with a total area of 6,580 sq. mm. Those will take care of maintaining performance under sustained load, but will also help handle the extreme load from the super speedy charging.
Realme assures that the phone's battery will retain at least 80% of its original charge after 1,600 charging cycles so the super speeds won't hurt longevity. In fact the industry standard is 800 so if anything the next Realme GT phone will exceed it.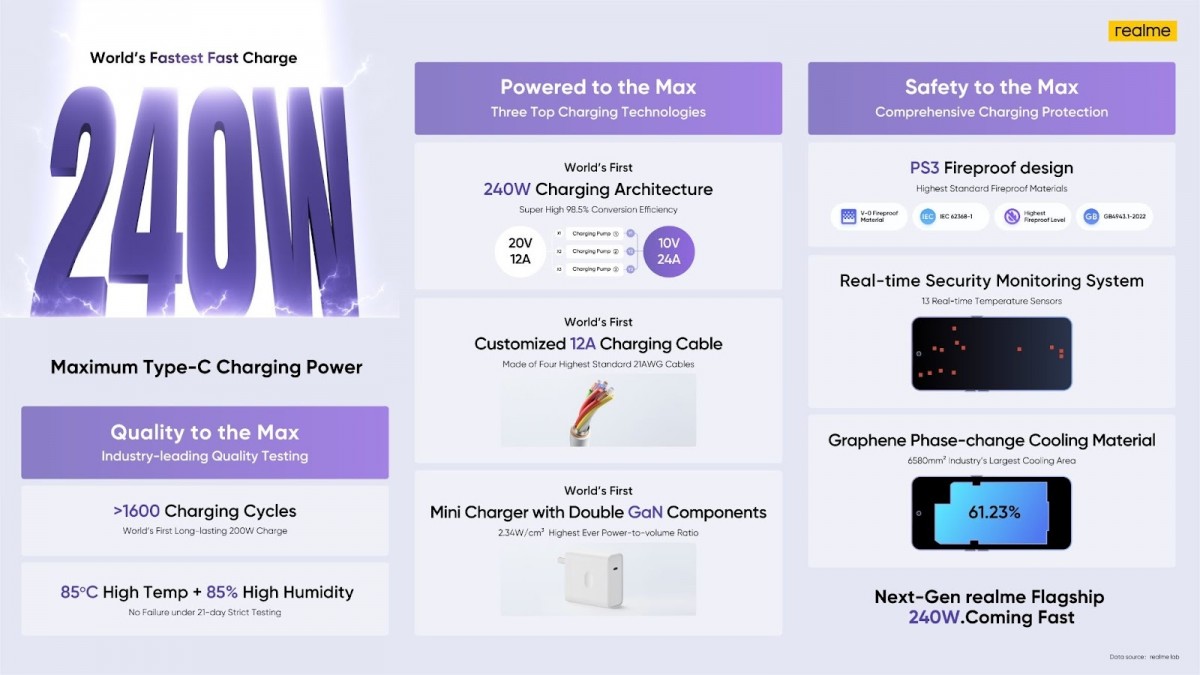 The brand did promise the standard will reach its upcoming flagship smartphone without giving a specific name, raising the question of whether it is the eventual Reame GT3 Pro or Realme is considering the GT Neo5 a flagship as well.