Xiaomi introduced today the Redmi K60 top-tier smartphones and a new Redmi Note 12 Pro Speed midranger. The stage also saw the arrival of three smart wearable devices – a Redmi Watch 3 with a bigger screen, a new Band 2 with a thin and light body, and Buds 4 Lite in fancy colors at a low price.
All of them are available for purchase in China.
Redmi Watch 3
The new wearable comes with a square-ish AMOLED display that is 1.75" in diagonal. It is 341 PPI and supports a 60 Hz refresh rate, and Redmi said it could reach 600 nits brightness. The body has flat sides, similar to the current trend in smartphones, and there is one hard button on the side.
Redmi Watch 3 brings Always-On Display, and while the device is powered, it can have over 200 different watch faces.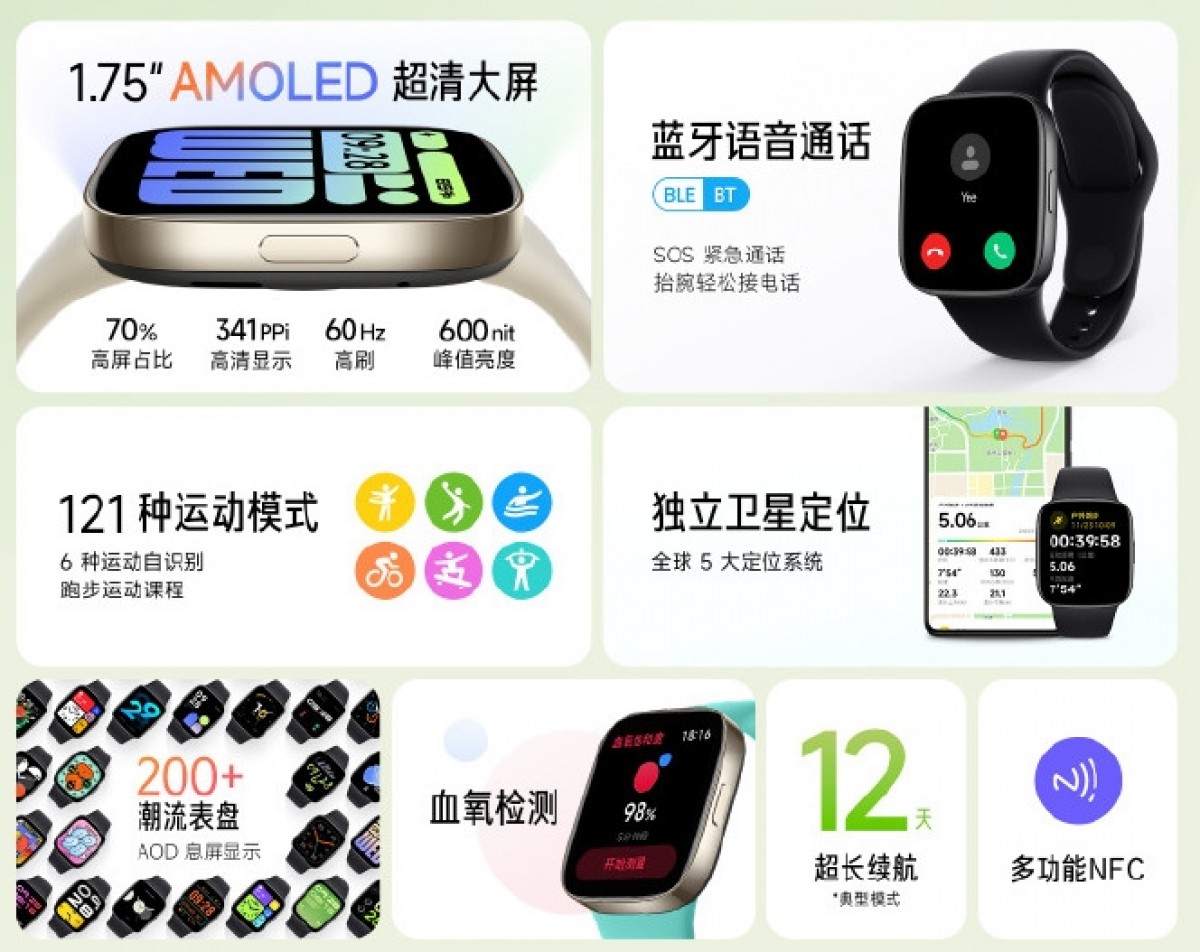 Xiaomi improved the battery of the Watch 3, and now it can work for 12 days on a single charge, with continuous SpO2 (blood oxygen) and heart rate monitoring. The device is certified for underwater usage at 5 ATM, and also works with GNSS for precise tracking in sports.
Speaking about sports, there are 121 different workout modes, and the wearable can work independently without needing a smartphone companion, as it has GPS navigation. However, a phone is needed for Bluetooth calls, and the company brought a noise-reduction microphone for better call quality.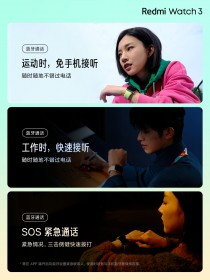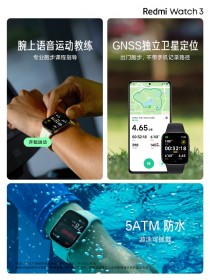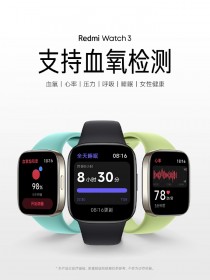 Xiaomi Redmi Watch 3 key features
The price of the Redmi Watch 3 is set at CNY499. It comes in Black or White (which is more like Ivory), although there are three colorful straps for further customization – they cost CNY69 extra.
Redmi Band 2
With the launch of this wearable, the borders between a smartwatch and a smart band are murkier than ever. The Band 2 has a 1.47" screen, which is 76% more than the first Redmi Band. The band itself is 9.99 mm thick and weighs 14.9 grams.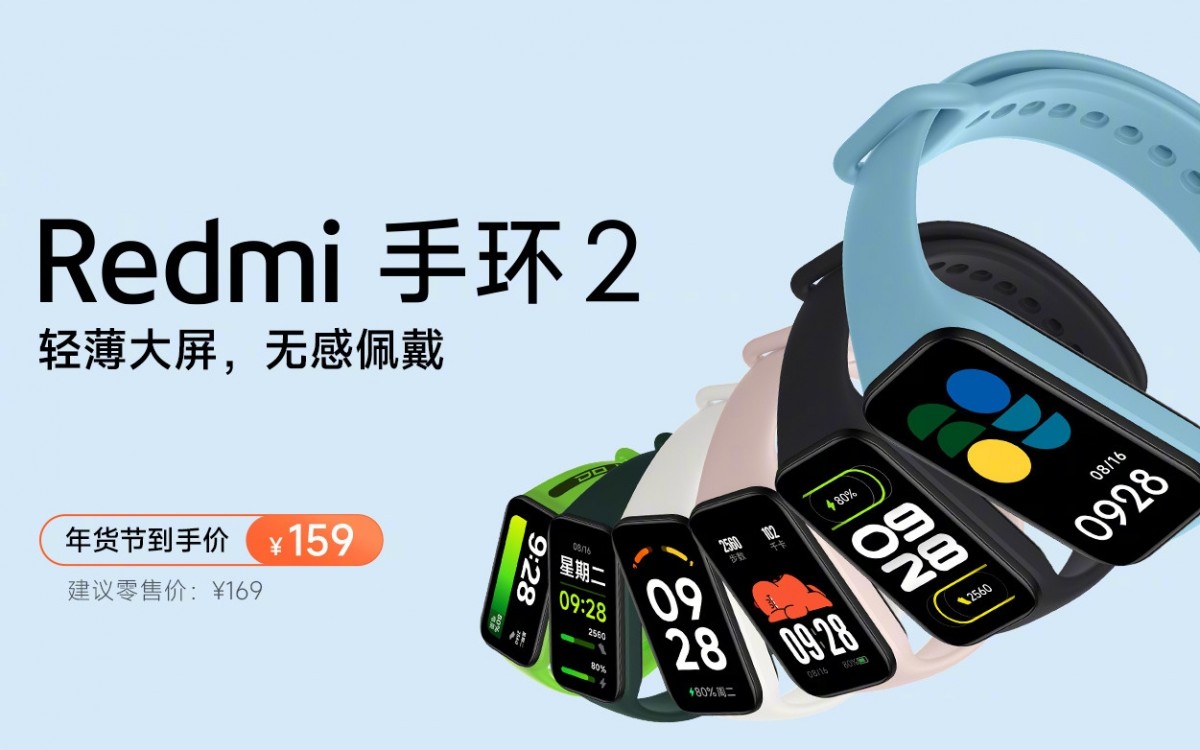 This device does not support Bluetooth calls but still offers fancy features such as blood oxygen measurement and a menstrual cycle tracker for ladies. There are over 30 exercise modes, and the battery can live six days on a single charge with heavy use or almost 14 days with "normal" use.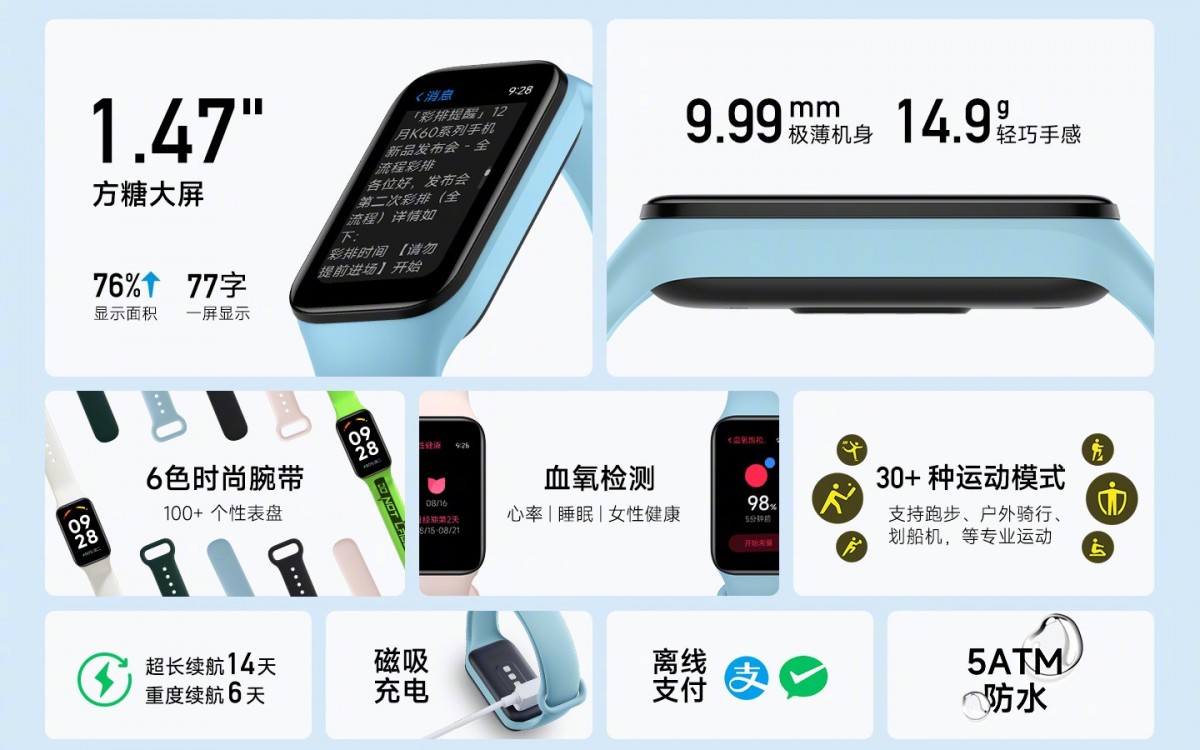 The Redmi Band 2 costs CNY159 until the end of 2022, then the price jumps to CNY169. There are six color options for the user: Fluorescent Green, Pink Gold, Black, Light Blue, Dark Green, and White.
Redmi Buds 4 Lite
These earbuds are also called Youth in Chinese, as they are advertised for young audiences that love bright colors.
These Buds 4 Lite come with a 12 mm driver for deep sound and smart noise reduction during calls. Each bud weighs just 3.9 grams, and the whole package, two buds + case, offers up to 20 hours of battery life. Other specs include Bluetooth 5.3 connectivity that works wonders for instant connection with select Xiaomi devices, and the buds are IP54 certified against water and dust ingress.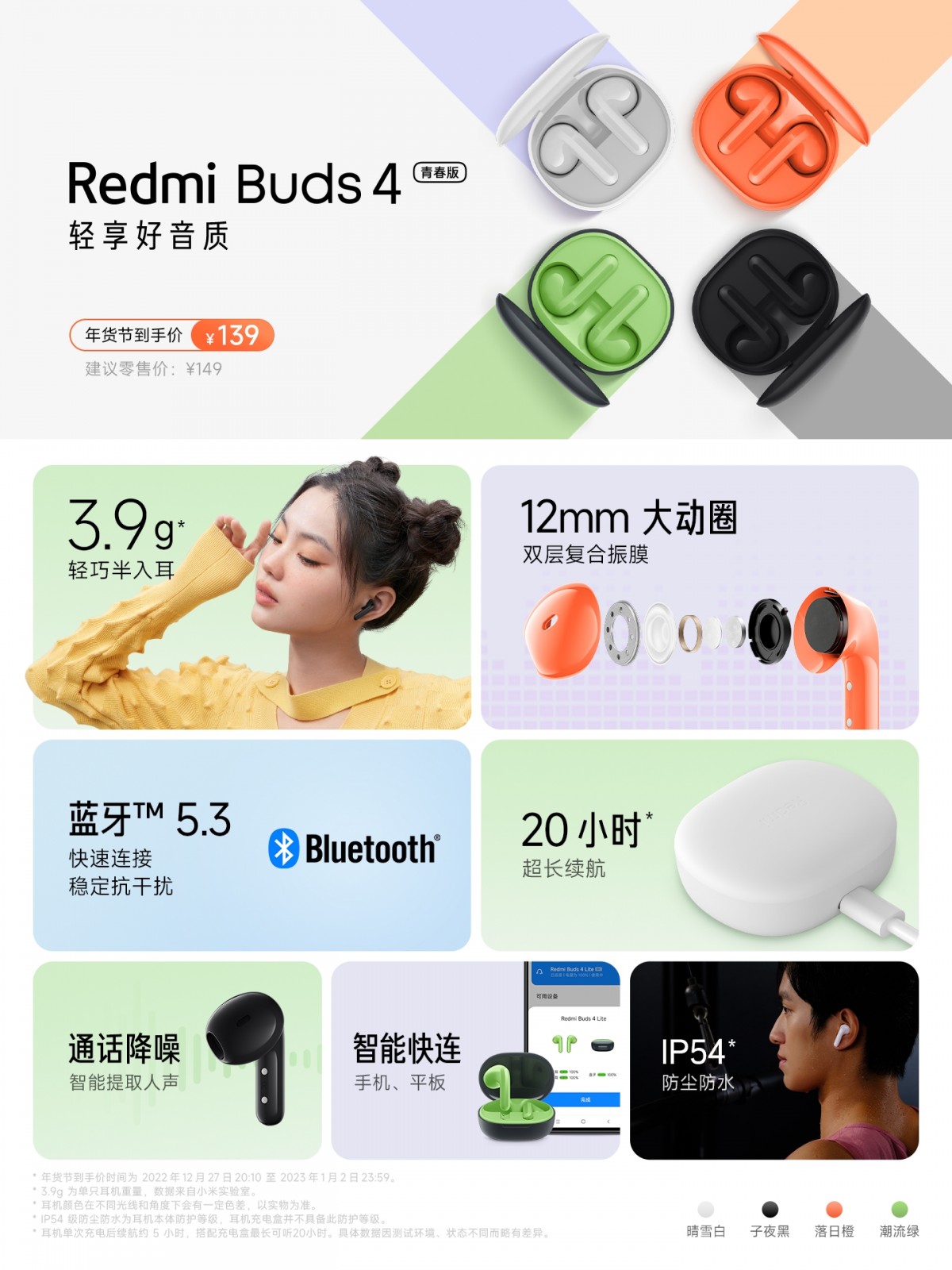 The Redmi Buds 4 Lite comes in White and Black, which are pretty plain colors. The more intriguing options are Orange, where the buds and the case are brightly colored, and Green, where only the buds and the inside of the case share the same paint job.
The price is CNY139 until the end of the year; then, it will change to CNY149.
Source (in Chinese)