Samsung is ready to unpack its Galaxy S23 series on February 1 and those eager to be first in line to receive their new phones can already save their spot. Samsung US has opened reservations for the Galaxy S23 series where $50 gets you a waiting spot for one of the new Galaxy S23 smartphones with the sum going towards Samsung Store credit once the phones are available.



Samsung US reservation options
The bookings page is also offering $50 reservations for the upcoming Galaxy Book laptop that's also expected to launch at the February 1 event. Users can also pledge $100 to reserve a Galaxy S23 smartphone and a Galaxy Book laptop together.
Samsung India has also opened up reservations with a INR 1,999 fee getting your the #Next Galaxy VIP Pass.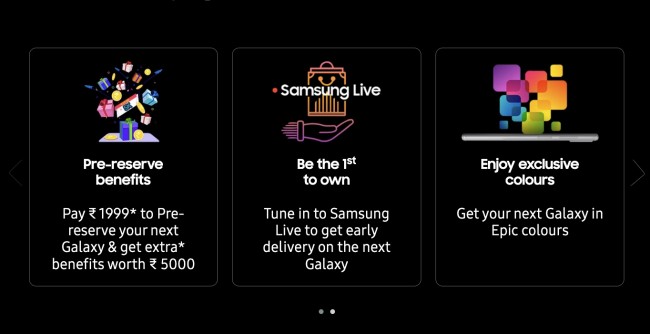 Samsung India reservation process
Reservations on Samsung US are open until February 1 and you'll be required to enter a valid email and your personal details to confirm your interest. Once the phones and laptop are announced, Samsung will get in touch to finalize your payment.
Samsung US reservation page | Samsung India reservation page